Our community is committed to Diversity, Equity, Accessibility, and Inclusivity, where BRIDGE symbolizes Belonging, Respect, Inclusion, Diversity, Growth, and Equity as we unite around our love of birds.
Nicole Michel, Co-chair
she/her
Director of Quantitative Science with National Audubon Society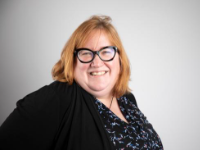 Nicole is Director of Quantitative Science with National Audubon Society. She leads a team of quantitative ecologists who produce the robust modeling efforts needed to understand trends and spatial patterns in bird populations, identify drivers of population decline, and develop metrics to measure impact of conservation actions. She is an elected Fellow and committed to advancing equity, diversity, and inclusion in the bird conservation and research field.
---
Hannah Tench, Co-chair
she/her
M.Sc. Student, University of Northern British Columbia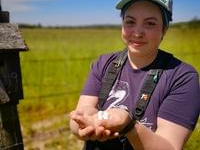 Hannah is an M.Sc. student with a particular interest in bird eggs, embryo development, fertility, and factors contributing to hatching failure. Hannah is equally passionate about accessibility and inclusivity in the natural sciences and ecological field and lab work. She strives to advocate for safer and more equitable spaces, in both academia and industry.
Note: Hannah is holding inviable eggs in her headshot and following all rules under her permit.
---
Committee Members
Viviana Ruiz-Gutierrez
Ashwin Sivakuma
Triana Hohn
April Campbell
Lan-Nhi Phung
Aranya Iyer
Corrine Génier
Camila Triana
Giselle Ragoonanan