About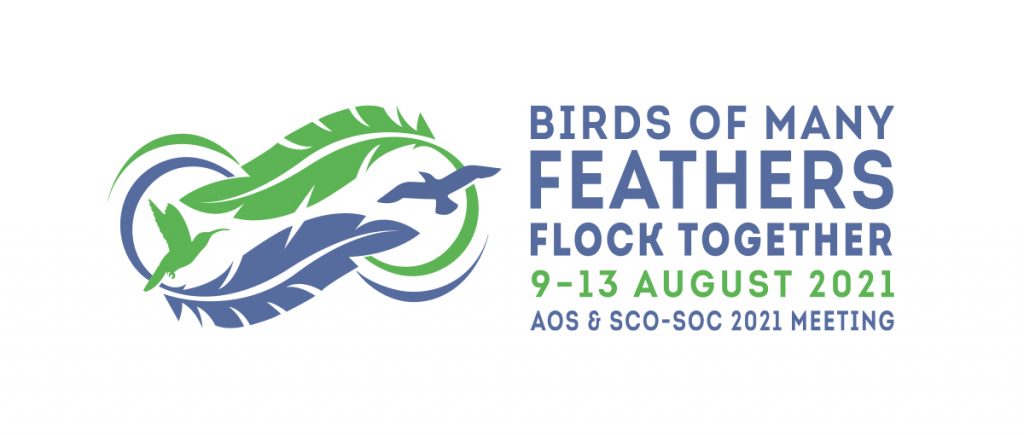 The American Ornithological Society (AOS) and the Society of Canadian Ornithologists–Société de Ornithologistes du Canada (SCO–SOC) invite you to a joint meeting of our Societies. This will be the 139th annual meeting of AOS and the 39th annual meeting of SCO–SOC. After the great success of the virtual NAOC 2020, and with uncertainty about the continuing effects of the COVID-19 pandemic through 2021, we are taking next year's annual meeting—originally planned to convene in London, Ontario—fully virtual.
Theme:  Birds of Many Feathers Flock Together
Date: 9–13 August 2021
Location: Virtual meeting
Following our long legacy of vibrant annual meetings, the 2021 conference will once again offer a great opportunity for sharing and discussing scientific research in all areas involving birds. The meeting will place special emphasis on research and conservation focused on our 2021 meeting theme, "Birds of Many Feathers Flock Together," which harnesses the power of all the individuals who study, conserve, and educate our society about birds. Over the past 50 years we have lost nearly 3 billion North American birds. In justice, equity, diversity, and inclusion lies the strength we so urgently need to meet the critical demand of preserving avian diversity. We look forward to a vibrant and stimulating conference in which we share our knowledge, experiences, and ideas with each other across a broad array of disciplines, cultures, genders, ethnicities, and biomes.
We envision a broad discussion of research that spans the breadth of modern ornithology through plenaries, symposia, workshops, roundtable discussions, contributed papers, and posters. In addition to these exciting presentations, we will have a variety of exhibitors from the commercial, non-profit, and government sectors. We will also host a series of daily, fun networking events for you to make new connections and reconnect with colleagues!
Don't forget to mark your calendar for this meeting and check here and watch Society news channels for updates!