Sponsors & Exhibitors
Become a Sponsor and help celebrate ornithology and birds. Conference sponsoring partners have a significant impact!
We invite you to join American Ornithology Society (AOS) and the Society of Canadian Ornithologists‑Société des ornithologistes du Canada (SCO-SOC) in our mission to advance the scientific study and conservation of birds and to further the professional development of the ornithological community by becoming a sponsor and exhibitor of the 139th Meeting of the AOS and the 39th annual meeting of the SCO-SOC. "Birds of Many Feathers Flock Together" is our international virtual conference for 2021, taking place 9–14 August 2021.
Rather than offering different packages for sponsors and exhibitors, we are combining the two for greater visibility and impact. All sponsors exhibit in our virtual exhibit hall which we will make accessible and promote before, during, and following the conference.
Sponsorship levels vary in contributions, exposure, and exclusivity. Partnership levels are affordable and robust, ranging from $1,000 to $15,000. We are excited to offer the Next Generation Sponsor level ($100 and higher), which will support a wide diversity of students, early professionals, and participants from special countries attending our conference.
Our annual conference, whether virtual or in-person, serves as the premier annual gathering place worldwide for ornithologists. From pre-event marketing exposure to extensive on-site visibility, sponsoring the AOS & SCO-SOC 2021 conference is a great way to reach the wide ranging professionals in ornithology. Our attendees include students, early professionals, and scientists from every sector presenting the latest research and scientific advancements across the discipline of ornithology; scientists and managers presenting applied research and the latest methodologies and management practices to conserve birds and their habitats; and, decision makers from all facets of avian science and management.
In addition to the latest ornithological science being presented in sessions and emerging tools and technologies presented at workshops and roundtables, the conference offers valuable opportunities for student participation, mentorship, and professional development. Preparing future leaders and training the next generation of ornithologist are fundamental objectives of our joint conference.
We recognize the critical role that contributions from our corporate, nonprofit and agency partners play in advancing the objectives of the conference. We are grateful for the generous support of our sponsors, and are committed to offering a variety of opportunities that showcase both your organization and your important contributions to scientific research and the conservation of birds in our virtual conference.
Sponsorship Levels
Sponsorship levels vary in exposure and exclusivity, and are affordable as well as robust.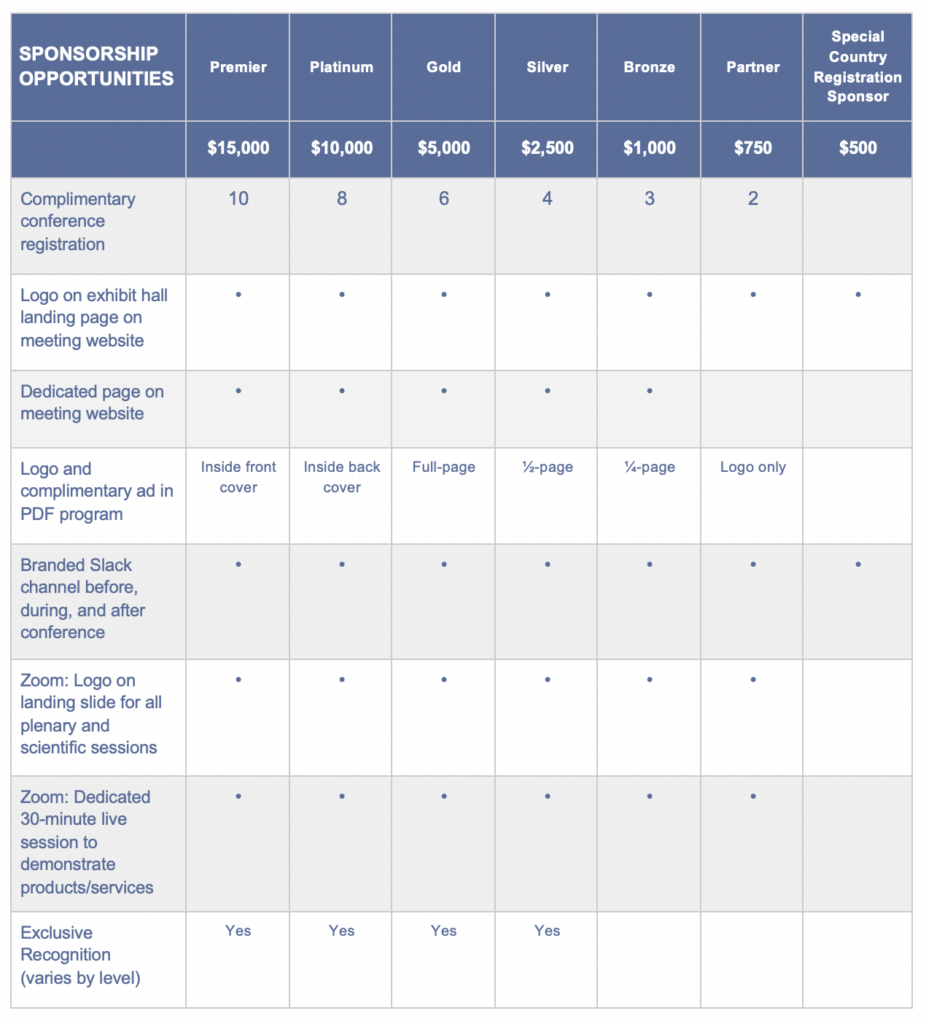 Contact
Please contact AOS to make inquiries:
Melinda Pruett-Jones
AOS Executive Director
mpruettjones@americanornithology.org
312-420-2292