Tody Trot—5K Fun Run
| Español |
Wednesday, 29 June 2022, 7:00 a.m. start time
If you have any questions before the Tody Trot, or concerns during the Tody Trot, don't hesitate to reach out to Justin (607-229-6255) or Maggie (705-622-4575). All runners must sign a waiver. Extra waivers are available at the BC Merchandise table on the second floor of the conference center.
---
(Updated: 28 June 2022)This year's 5k Fun Run, the Tody Trot, has been named in honor of one of Puerto Rico's most fascinating endemic bird species, the Puerto Rican Tody (Todus mexicanus). Locally named 'San Pedrito', this Tody is a beloved, iconic species for the island, known for its crisp, green plumage, distinctive nasally 'beep' calls, and nesting behavior in which they excavate their own cavities in soft earthen banks.
Join us for a bright-and-early 5k Run on Wednesday, 29 June, not only in celebration of the Puerto Rican Tody, but also as an opportunity to alleviate some conference jitters, socialize with friends, and take in some new scenery along the island's north coast.
Your 5k Run Committee is putting together an exciting route for all of our runners (walkers are welcome, too, of course!), that will wind you along sandy beaches, beautiful ocean views, and even a castle! Course details will be provided closer to race date, but in the meantime, here's what you need to do:
When you Register for the conference, be sure to also sign-up for the run! (If you've already registered for the meeting, you can go back to your registration and add the Fun Run.)
Start training! Well… at least a little.
Get the word out — encourage your friends and colleagues to sign up and run with you.
Block off 6:30–8:30 a.m. on your calendars for Wednesday, 29 June. This will give you enough time to walk to the starting line (about a 10-minute walk from the conference center and adjacent hotels), and give you ample time afterwards to grab a shower and breakfast before heading over to the conference center to catch the 9:00 a.m. plenary talk.
Some folks will run/walk this 5k competitively and some will run/walk it socially. As long as you're having fun, engage with this event however you'd like (cheering folks on is a great option, too!). We'll have an aid station at the halfway point with water and snack bars, but we encourage everyone to also consider bringing their own refillable water bottles to cut down on waste.
And don't forget the prizes. Oh yeah, they're gonna be good!
Stay tuned for more information!
Course Map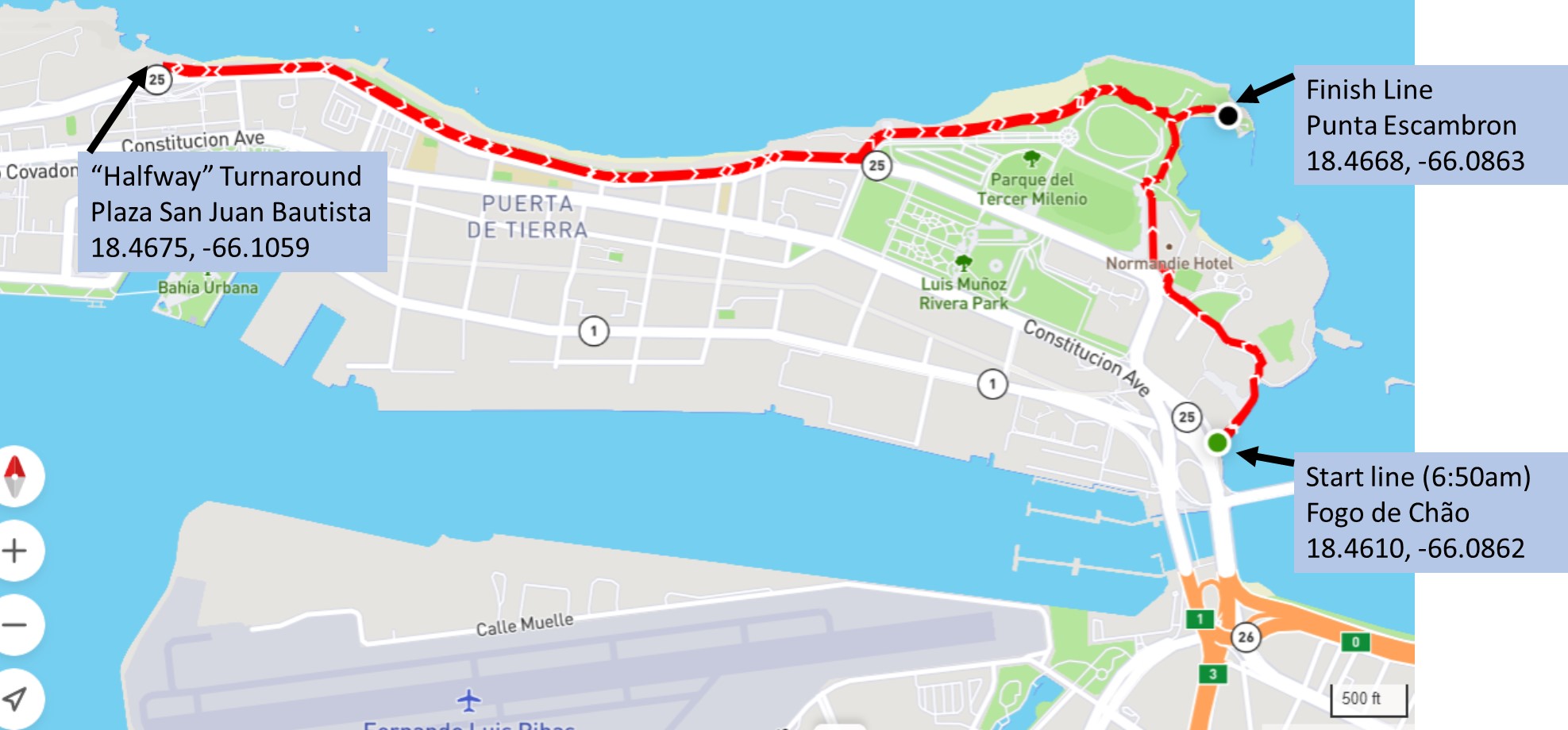 ---
Español
El trote de San Pedrito – Carrera divertida de 5K
Miércoles, 29 de junio de 2022, hora de inicio: 7 a.m.
Este año, la carrera divertida de 5K, El Trote del San Pedrito, ha sido nombrada en honor a una de las especies de aves endémicas más fascinantes de Puerto Rico, el San Pedrito (Todus mexicanus). Esta es una especie icónica y muy querida en la isla, conocida por su plumaje verde brillante, su distintivo reclamo (un nasal bip) y por su comportamiento de anidamiento, ya que excava sus propias cavidades en bancos de tierra blanda.
Únete a nosotros para una brillante y temprana carrera de 5km el miércoles 29 de junio, no solo para celebrar con el San Pedrito, sino también para aliviar algunos de los nervios de la conferencia, socializar con amigos y disfrutar de nuevos escenarios a lo largo de la costa norte de la isla.
El comité de la carrera de 5k está preparando una ruta emocionante para todos nuestros corredores (¡Por supuesto, los que caminan también son bienvenidos!), que te llevará a lo largo de playas de arena, hermosas vistas del océano, ¡E incluso un castillo! Los detalles de la ruta se proporcionarán más cerca de la fecha de la carrera pero, mientras tanto, esto es lo que debes de hacer:
Cuando te registres a la conferencia, asegúrate de registrarte también para la carrera (si ya te registraste a la conferencia, puedes volver a tu registro y agregar la Carrera Divertida).
¡Entrena! Bueno… al menos un poco.
Corre la voz, anima a tus amigos y colegas a registrarse y correr contigo.
Aparta desde las 6:30-8:30 am del miércoles 29 de junio en tu calendario. Esto te dará suficiente tiempo para caminar hasta la línea de salida (aproximadamente 10 minutos a pie desde el centro de conferencias y los hoteles adyacentes) y te dará tiempo suficiente para tomar una ducha y desayunar antes de dirigirte al centro de conferencias para alcanzar la charla plenaria de las 9:00 am.
Algunas personas correrán/caminarán estos 5k de forma competitiva y otras correrán/caminarán socialmente. Mientras te diviertas, puedes participar en este evento como quieras (¡animar a los participantes también es una gran opción!). Tendremos una estación de ayuda en el punto central, con agua y bocadillos, pero también alentamos a todos a que consideren traer sus propias botellas de agua reusables para disminuir la basura.
Y no te olvides de los premios. ¡Oh, sí, van a ser buenos!
¡Atentos para más información!