Rainbow Lorikeets LGBTQIA+ & Allies Virtual Social
Français | Español | Português
Tuesday, 10 August, 7:00 p.m. (EDT)
The Rainbow Lorikeets formed so that colleagues who identify as lesbian, gay, bi, trans, otherwise queer, and their allies would have a strong voice and representation within the American Ornithological Society (AOS). We provide programming, events, and training to advance this mission and promote a community that supports and includes LGBTQIA+ members.
The Rainbow Lorikeets is hosting a Queer Social Hour for LGBTQIA+ identifying meeting attendees and their allies. This social is an opportunity to converse with colleagues who identify as LGBTQIA+ about experiences and representation in ornithology and beyond. We will promote a welcoming atmosphere at this private event to provide opportunities for folks to meet other members of the queer community and those who support the community. We plan to create several opportunities to promote discussion in a safe atmosphere with small breakout groups and conversation topic suggestions. Come share your experiences, ask questions, or just enjoy the company of friends.
Sign-up to attend the social here!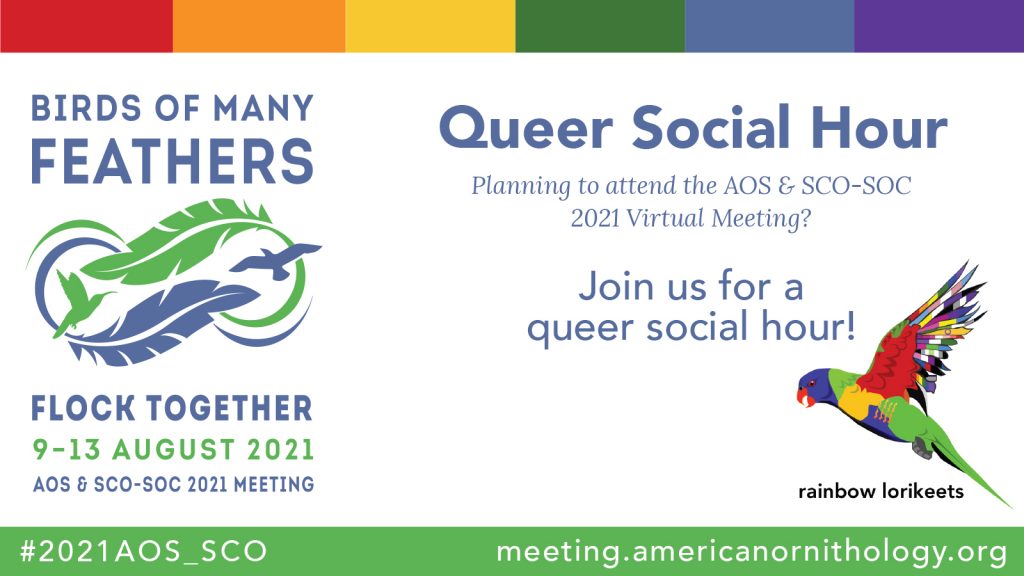 Queer Roundtable Discussion
Tuesday, 10 August, 4:00 p.m. (EDT)
Join us at the upcoming AOS & SCO-SOC meeting for a Queer Roundtable discussion, A mixed flock: LGBTQIA+ narratives within ornithology, to continue our conversation and build our queer community!
---
Français
Le rendez-vous virtuel des Loriquets arc-en-ciel LGBTQIA+ & alliées
Le groupe des Loriquets arc-en-ciel a été créé pour que les personnes qui s'identifient comme lesbiennes, gays, bi, trans, autrement queers, et leurs alliés aient une place importante et une bonne représentation au sein de la Société américaine d'ornithologie (AOS). Nous proposons des programmes, des événements et des formations pour faire avancer cette mission et promouvoir une communauté qui soutient et inclut les membres LGBTQIA+.
Le groupe des loriquets arc-en-ciel organise un événement rencontre et social queer afin d'identifier les membres LGBTQIA+ et leurs alliés. Ce rendez-vous social est une occasion de converser sur les expériences et la représentation en ornithologie et au-delà des collègues qui s'identifient comme LGBTQIA+. Nous promouvrons une atmosphère accueillante lors de cet événement privé afin de permettre aux participantes et participants de rencontrer d'autres membres de la communauté queer et ceux qui soutiennent cette communauté. Nous prévoyons de créer plusieurs opportunités pour promouvoir des échanges dans une atmosphère sûre avec des petits groupes de discussion et des suggestions de sujets de conversation. Venez partager vos expériences, poser des questions, ou simplement profiter de la compagnie d'amies et amis.
Inscrivez-vous pour participer à la réunion sociale ici !
Table ronde sur les queers
Rejoignez-nous lors de la prochaine conférence de l'AOS et du SCO-SOC pour une table ronde sur les queer afin de poursuivre notre conversation et de développer notre communauté queer !
---
Español
Evento social para los y las Rainbow Lorikeets LGBTQIA+ y sus aliados y aliadas
Rainbow Lorikeets fue creado para que colegas que se identifican como lesbianas, gay, bi, trans o queer, además de sus aliados y aliadas, tuvieran una voz fuerte y representación dentro de la Sociedad Ornitológica Americana (AOS por sus siglas en inglés). Ofrecemos programas, eventos y entrenamiento para avanzar en esta misión y promover una comunidad que apoya e incluya a los y las miembros LGBTQIA+.
Rainbow Lorikeets está organizando una Hora Social Queer para la comunidad LGBTQIA+ identificando a los y las asistentes de la reunión y sus aliados y aliadas. Esta actividad social es una oportunidad para conversar con colegas que se identifican como LGBTQIA+ sobre sus experiencias y representación en la ornitología y más allá. Promoveremos un ambiente acogedor en este evento privado para brindar oportunidades para que las personas conozcan a otros y otras miembros de la comunidad queer y aquellos que apoyan a la comunidad. Planificamos crear varias oportunidades para promover la discusión en un ambiente seguro en pequeños grupos y sugerencias de temas de conversación. Venga a compartir sus experiencias, haga preguntas o simplemente disfrute de la compañía de amigos y amigas.
¡Regístrate para asistir al evento social aquí!
La discusión de la mesa redonda queer
¡Únete a nosotros y nosotras en la próxima reunión de la AOS y SCO-SOC para una Mesa Redonda Queer para continuar con nuestra conversación y construir nuestra comunidad queer!
---
Português
Encontro virtual dos Lóris-arco-íris LGBTQIA+ & Aliados
Os Lóris-arco-íris se juntaram para que colegas que se identificam como lésbicas, gays, bissexuais, trans, ou queer, e seus aliados, tivessem uma voz forte e representação dentro da Sociedade Americana de Ornitologia (AOS). Nós oferecemos programas, eventos e treinamentos para avançar essa missão e promover uma comunidade que apoie e inclua membros LGBTQIA+.
Os Lóris-arco-íris estão organizando uma Hora Social Queer para participantes que se identifiquem como LGBTQIA+ e seus aliados. Esse evento é uma oportunidade para conversar com colegas que se identificam como LGBTQIA+ sobre experiências e representatividade na ornitologia e outras áreas. Nós promoveremos uma atmosfera receptiva neste evento privado para proporcionar oportunidades para as pessoas conhecerem outros membros da comunidade queer e aqueles que a apoiam. Nós planejamos criar múltiplas oportunidades para promover discussões em um ambiente seguro com pequenos grupos de conversa e sugestão de tópicos de debates.
Inscreva-se aqui para participar do encontro!
Mesa Redonda Queer
Junte-se a nós no próximo encontro da AOS & SCO-SOC para uma mesa redonda queer para continuar nossa conversa e construir nossa comunidade queer!