Special Roundtable
Building equity and accessibility to birding through mentorship: A special roundtable with path-building Black ornithologists
Thursday, 12 August, 5:30 p.m. (EDT)
The AOS & SCO-SOC 2021 Virtual Meeting is convening a roundtable event to highlight three Black ornithologists who are playing pivotal roles in broadening the scope of the next generation of bird enthusiasts. Through their commitment to birds, nature, and people, these leaders will discuss their research, activism, and hopes for the future of ornithology. The event will be a moderated discussion followed by audience Q&A. Virtual Meeting participants are invited to submit questions before and during the event.
Panelists:
Janet Buckner, Ph.D.
Baiyinah Abdullah
Courtney Akinosho
Moderator: Monique Pipkin
The COVID-19 pandemic has disproportionately affected Black, Indigenous, and People of Color (BIPOC). The widespread violence against communities of color and marginalized groups has been brought to the forefront this past year, further highlighting the centuries of gross structural deficiencies brought by colonialism worldwide. Racism, homophobia, xenophobia, ableism, to name a few, and their intersectionalities have all given rise to an inequitable system that creates barriers for people of color.
The American Ornithological Society (AOS) and the Society for Canadian Ornithologists – Société de ornithologistes du Canada (SCO-SOC) strongly condemns discrimination in any form. It is also important to acknowledge that our scientific societies clearly have a lot of work ahead towards racial justice. To help continue this process, we seek a path forward by educating ourselves about bias, adhering and embracing our evolving values of equity and inclusion, and developing new policies and partnerships to meet this critical challenge.
As professional ornithological societies, we recognize that BIPOC participation and retention in ornithology has been hindered as a result of systemic racism, which has led to a field that is currently white dominated. This is changing thanks to the relentless work of many in the BIPOC ornithological community, but especially thanks to the efforts of Black ornithologists. Because of their work in science, outreach and education, many aspiring ornithologists are entering the field as they feel inspired and energized by relatable role models.
In support of these much-needed changes, we have invited three panelists to highlight their exciting work as scientists and community organizers. The three leaders will discuss birding, activism, and hopes for the future of ornithology. The event will be a moderated discussion followed by audience Q&A. Virtual Meeting participants will be invited to submit questions before the event.
---
Moderator
Monique Pipkin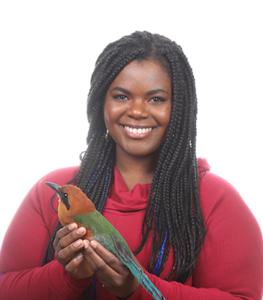 Biologist and ornithologist Monique Pipkin is a Ford Foundation Predoctoral Fellow, Alfred P. Sloan Foundation Scholar and Ph.D. student at Cornell University. Monique studies animal behavior and informal science education. She is interested in the physiological drivers and function of iridescent plumage, and in the use of art in informal education and museum settings. She co-wrote and narrated an animated video explaining what we can learn from the physiology of stress response in birds. She has been spearheading discussions on inclusion and access in environmental sciences through improving field work safety. Most recently, she co-authored a paper with Amelia-Juliette Demery in Nature Ecology & Evolution, where they propose guidelines for at-risk individuals conducting field work, and what colleagues, supervisors, and institutions should do to promote safe fieldwork strategies. To date, she has spoken at multiple events and has hosted several webinars on the topic. Monique has been featured on NPR and on the podcasts Women of Ecology & Evolution and Ologies.
---
Panelists
Baiyinah Abdullah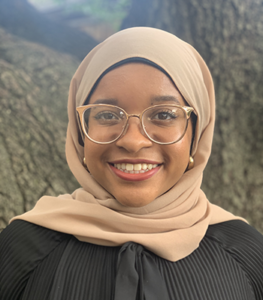 Baiyinah (bay-yin-ah) Abdullah is a biology teacher based in Texas. As an educator, she is interested in practicing culturally responsive pedagogy and promoting scientific literacy. As a scientist, she is a birder and a student of environmental justice. Baiyinah enjoys volunteering for an ongoing bird banding research project, documenting the resident and migratory bird populations in Lake Jackson, Texas. As a Black birder and educator, Baiyinah is excited to be a part of conversations about being Black in the outdoors, and increasing nature-related opportunities for Black youth.
Courtney Akinosho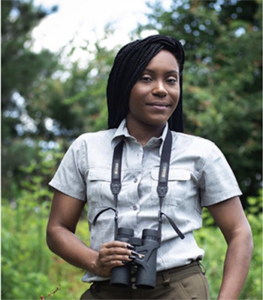 Courtney Akinosho, known widely on social media as @BlackGirlwWings, is a millennial creative who's worn a number of hats from award-winning journalist to trained postpartum doula. She grew up fishing, picking plums and berries on the side of the road, climbing trees, and collecting rocks. Combining her many years of expertise in social work and her passion for birds, she works at the intersection of environmental and social sciences. If the outdoors are for everyone, she wants to introduce as many Black women and girls to ecotherapy and wildlife photography as possible. She is currently an environmental science student and impassioned naturalist. Courtney empowers a growing community of more than 6,000 to explore their relationships with the outdoors, and to find respite in nature in an increasingly industrial age. In 2020, Courtney launched Noir Outdoors, an e-commerce shop tailored to hikers, bikers, and other nature enthusiasts of color. In the same year, Courtney also founded Black Girls Bird, an Atlanta-based (U.S.) nonprofit organization for girls, young and mature, who are interested and participate in birding and photography.
Janet Buckner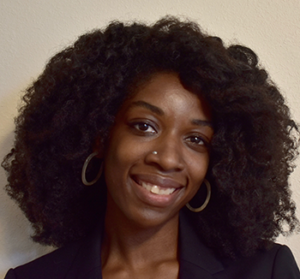 Dr. JC Buckner is currently a postdoctoral researcher at the Louisiana State University Museum of Natural Science. Prior to this position, she was a National Science Foundation postdoctoral fellow at Iowa State University. She will be starting as an Assistant Professor in the Department of Biology at the University of Texas, Arlington in the spring of 2022. Her research aims to understand how biodiversity is generated, maintained, and lost through time by integrating genomics and paleontology to trace the molecular systematics, macroevolution and evolutionary ecology of living and extinct birds and mammals. Dr. Buckner serves on the Diversity, Equity, and Inclusion committee for the Society of Systematic Biologists and will join the council in 2022.