The American Ornithological Society & BirdsCaribbean 2022 (AOS & BC 2022) conference, On the Wings of Recovery: Resilience and Action, ended in early July, but our newly forged and strengthened connections will continue well into the future.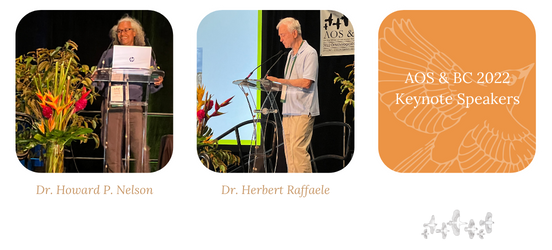 Our stimulating conference programming included 146 poster presentations; 143 presentations across 14 symposia; 280 contributed papers; eight roundtable discussions; and 93 student presentations with 64 volunteer judges for our Student Presentation Awards competition.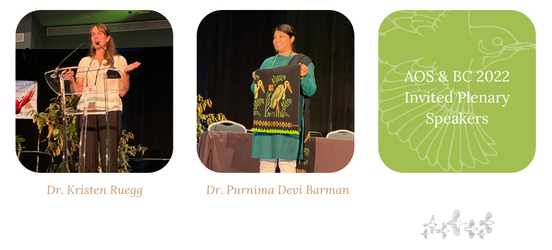 More than 800 registrants from 37 countries came together for AOS & BC 2022. Of these attendees, 440 were students and early professionals, and 257 were first-time conference attendees. More than 60 student and early-professional volunteers donated 600+ volunteer hours before, during, and after the conference. We have nothing short of the highest praise and gratitude for these volunteers and everyone who staffed our event.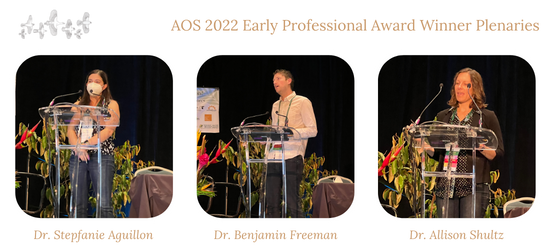 Conference Program Available Online
The AOS & BC 2022 Conference Program and Booklets are available online. You can download the PDFs or access the Google docs on the conference website.
Photography Competition Still Open
All AOS & BC 2022 conference attendees can still enter our photo contest to win some amazing prizes. All photos taken between 23 June and 5 July in Puerto Rico can be entered! Photos must be submitted by the deadline of 23 July 2022 to be considered. In addition to bragging rights, you will be competing for the Grand Prize—a Viper Vortex Spotting Scope 20 – 60×85 (Angled), valued at $1,349.99 US! Other great prizes too! Find all the details on the website!
2022 Quiz Bowl Champions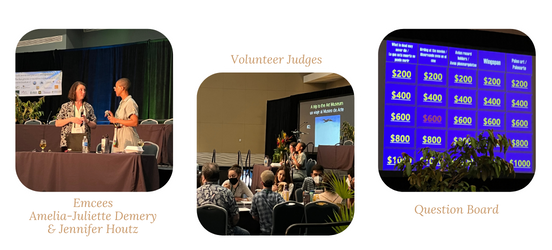 Thanks to the 20 teams who competed in the 16th annual Quiz Bowl competition on Wednesday night. After a grilling first round, three student teams advanced to the finals. Congratulations to our top three teams!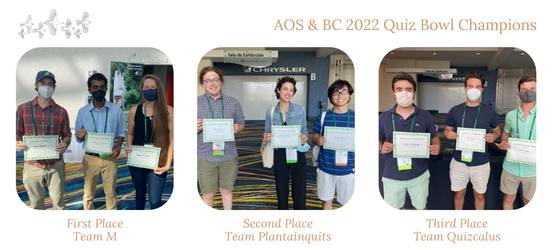 First Place
Team M
Kevin Bennett, University of Maryland at College Park
Ashwin Sivakumar, Harvard University
Amanda Navine, University of Hawaiʻi at Hilo
Second Place
Team Plantainquits
Max Kirsch, San Diego State University
Emma Claisse, Washington University (St. Louis)
Xiaoni Xu, University of Chicago
Third Place
Team Quizcalus
Kyle Kittelberger, University of Utah
Will Sweet, California State University, Long Beach
Chris Sayers, University of California, Los Angeles

---
eBird Birding Competition Winners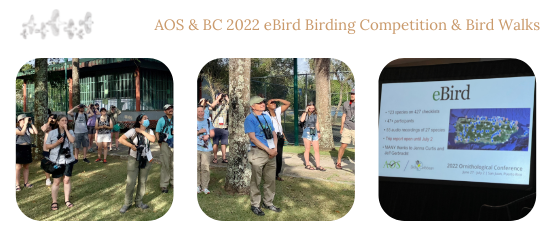 Congratulations to Daniel Goldberg, Megan Massa, and Xiaoni Xu, winners of the AOS & BC 2022 eBird Birding Competition. This year's competition was a great success, with more than 61 participants who identified 136 species on 694 checklists, and submitted audio recordings of 37 species and photos of 97 species! Thanks to event organizers, Jenna Curtis and Jeff Gerbracht, and to Cornell's eBird, Para la Naturaleza, and the Sociedad Ornitológica Puertorriqueña, Inc. (SOPI) for sponsoring this event. You can see more information at the AOS & BC 2022 Trip Report.
Tody Trot 5K Fun Run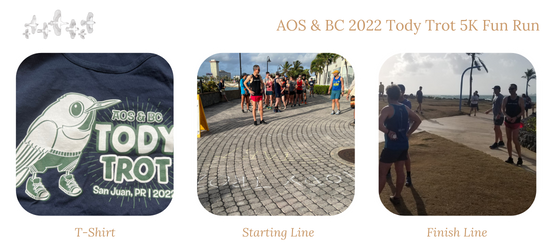 On Wednesday morning during the conference, 75 early bird runners participated in our Tody Trot 5K fun run! Thank you to all 80 registrants (10% of AOS & BC 2022 conference attendees!) and those who purchased one-of-a-kind Tody Trot shirts (designed by Emily Griffith), whose contributions helped to support student events at the conference. The race course took runners on a scenic tour along the coast from Luis Muñoz Rivera Park to a turn-around at El Capitolio, in the Old San Juan district, and back to the finish line at Punta Escambron, where we all celebrated! We love the fun run as a low-pressure opportunity for community-building. Proceeds from the fun run and Tody Trot shirt sales benefited student events at the conference. Congratulations and thank you to all participants and organizers!
Silent Auction Deemed a Huge Success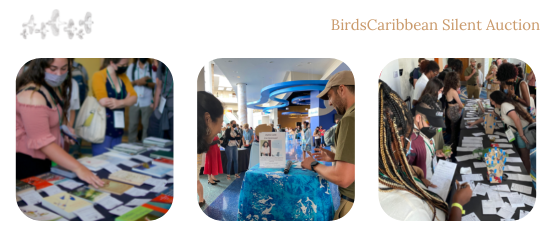 The Silent Auction again proved to be an important fundraising activity. Approximately $6,000 was raised for travel scholarships. Upwards of 600 items were donated – ranging from $1 knick-knacks to stays at camps or cabins that went for hundreds of dollars. The auction was also a way to meet new people (albeit as competitors) and learn a bit more about BirdsCaribbean's organizational culture. Thanks to all of our Silent Auction donors and winners!
BirdsCaribbean Raffle Still Open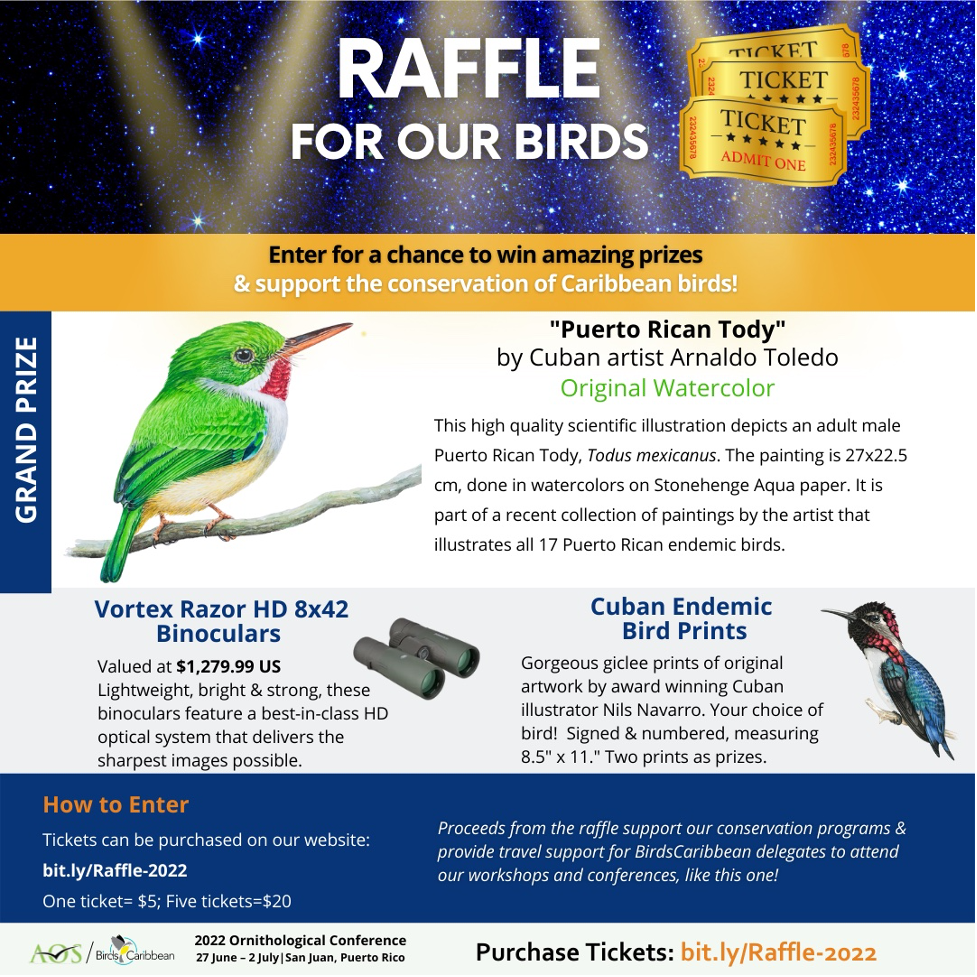 More than 600 tickets were sold to conference participants, raising ~$2.9K. Many people went home wearing the colorful souvenir bird bands reading "AOS & BC Puerto Rico 2022." Sales will continue through mid-August in order to maximize the income, which goes towards conserving Caribbean birds and travel scholarships. If you did not yet get a chance to purchase a raffle ticket, it is not too late! Click here to purchase. Tickets are $5 each or five for $20. Awesome prizes include the original watercolor "Puerto Rican Tody" by Cuban artist Arnaldo Toledo, Vortex Razor HD 8×42 binoculars (valued at $1,279.99) and Cuban Endemic Bird Prints by Cuban artist & author, Nils Navarro (limited edition, signed and numbered, your choice of print). Learn more about the prizes and raffle.
Thanks to Our Storytellers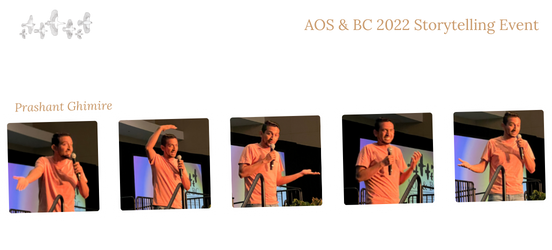 The AOS & BC 2022 Storytelling event, Stories of Resilience and Action in Ornithology, was one to remember! Thanks to our five storytellers: Prashant Ghimire, Maureen McClung, Zena Casteel, Sara Remmes, and Josh LaPergola, who recounted their incredibly moving stories of resilience in ornithology to a captivated audience!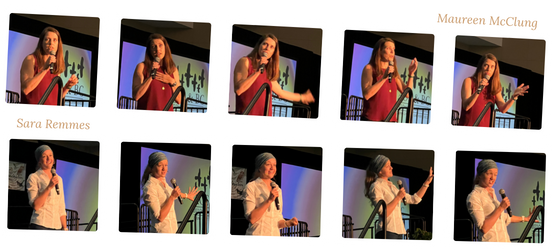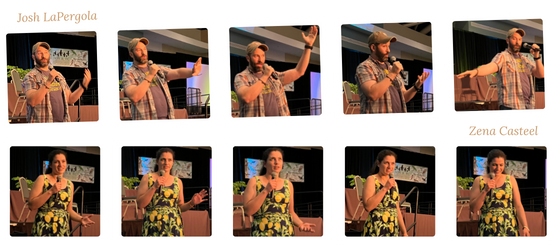 In Memoriam
In a beautiful tribute video that aired during the conference, we honored the memory and lasting legacies of our dearly departed colleagues and friends in ornithology. View this video on the AOS YouTube channel.
Thanks to Our Sponsors & Exhibitors
Thank you to our generous conference Sponsors and Exhibitors. View the Exhibit Hall map on the conference website and click through our exhibitor pages to learn more and connect with our supporters.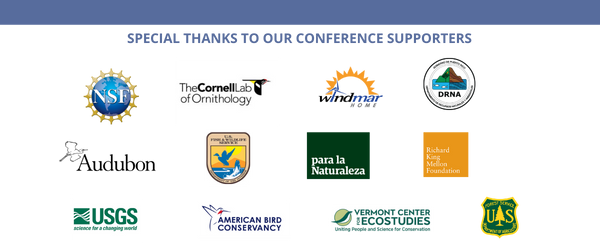 ---
Thank you for attending AOS & BC 2022! We hope you'll join us for AOS & SCO–SOC 2023 in London, Ontario, scheduled for 7–12 August 2023.