| Español |
We will be flying together! For the first time, the American Ornithological Society (AOS) and BirdsCaribbean will host a joint conference in San Juan, Puerto Rico, from 27 June to 2 July 2022, partnering with local hosts Para la Naturaleza and Sociedad Ornitológica Puertorriqueña.
Held under the theme, "On the Wings of Recovery: Resilience and Action," the conference will mark the 140th Annual Meeting of the AOS and the 23rd International Conference of BirdsCaribbean.
The conference will bring together ornithologists, wildlife professionals, educators, community leaders, students, and others to share information and learn about the latest research and innovative initiatives to conserve birds and their habitats.
We will feature exciting keynote and plenary speakers, symposia, workshops, roundtable discussions, contributed papers, and posters. In addition, we will have a variety of exhibitors from the commercial, non-profit, and government sectors. We will also host a series of daily, fun networking events for you to make new connections and reconnect with colleagues. Finally, numerous field trips will be offered to give you a chance to explore and bird in fabulous Puerto Rico.
We are looking forward to meeting in person!* A call for workshops and training opportunities is currently out, with proposals due by 4 January 2022. All proposals for symposia and for roundtable discussions must be received by 15 January 2022. Registration and a call for abstracts for oral and poster presentations will open in January 2022.
Mark your calendars and plan to join us on the beautiful tropical island of Puerto Rico, one of the four islands of the Greater Antilles, in a region which is one of the top five hotspots of endemism in plant and vertebrate species globally. Puerto Rico is home to 370 bird species, with 17 out of the 171 endemic species of the region. Its intriguing landscapes, from mangrove wetlands to beaches to rainforests, are there to be enjoyed.
Follow our conference hashtag for conference updates and announcements: #AOS_BC_22
Conference logo celebrates theme: "On the Wings of Recovery: Resilience and Action"
Now, let us take a closer look at the conference logo. Designed by the super-talented artist and early-career biologist, Josmar Esteban Marquez, the logo reflects the theme, depicting six of Puerto Rico's 17 endemic species or subspecies and one regional endemic. These include the Puerto Rican Parrot (Iguaca) which has made a remarkable recovery since 1975, when only a handful remained in the wild. There are now more than 500, thanks to captive breeding and the release of individuals into their forest habitat, with more than half now reproducing in the wild. What an example of resiliency!
Here are the species so beautifully depicted in our logo. From left to right: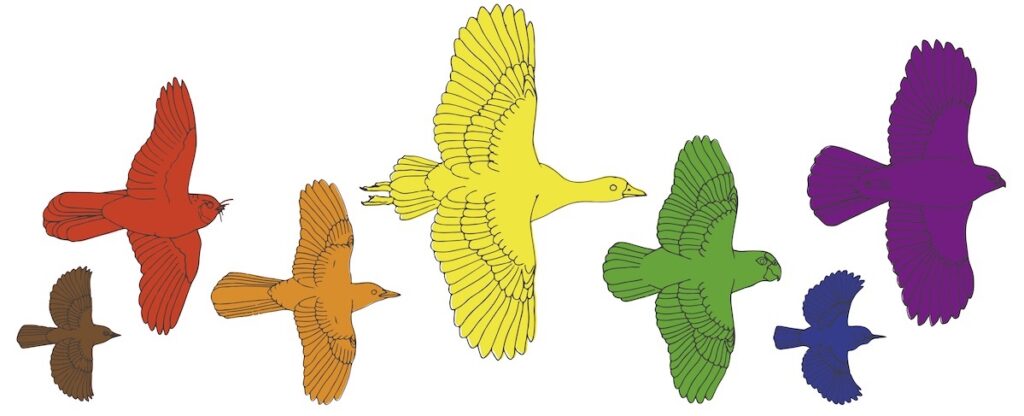 The Elfin-woods Warbler (Setophaga angelae) is a dainty, mostly black and white warbler, endemic to a few forested areas on the island such as the El Yunque. It was first discovered by ornithologists in 1969! Its call is not as musical as you might expect, but territorial pairs do sing duets while defending territory – and they apparently mate for life.
The Puerto Rican Nightjar (Antrostomus noctitherus) is an Endangered endemic species. The males sing throughout the year and during the breeding season they incubate young on the ground in the daytime. They are more abundant in the upland forest in and around the Guánica Biosphere Reserve, where they feed on insects under the canopy during the night.
The Yellow-shouldered Blackbird, (Agelaius xanthomus), locally named "Mariquita," is another Endangered endemic species mainly to be found in the mangrove zone of southwestern Puerto Rico and on Mona Island. It has suffered greatly from brood parasitism by the invasive Shiny Cowbird, which lays its eggs in the Blackbird's nests. The blackbird has many displays and vocalizations and usually walks on the ground.
The elegant West Indian Whistling-Duck (Dendrocygna arborea) is endemic to the Caribbean region and one of the rarest ducks in the Americas – despite being down-listed to Vulnerable status in 2019 by BirdLife International. It can be found in freshwater and saline wetlands, including coastal mangroves, lagoons, and tidal flats, and forages for berries, seeds and grain, mostly at night.
The Critically Endangered Puerto Rican Parrot (Amazona vittata) is a beautiful endemic species threatened by predation, the caged bird trade and natural disasters such as hurricanes; but is benefiting greatly from the ongoing recovery program. It is almost entirely green, with blue-edged wings and a bright red frontal band.
An endemic species, the Puerto Rican Tody (Todus mexicanus) is called San Pedrito, Medio peso, and Papagayo locally. This bright gem of a bird lives in wooded areas from the coast to mountainous areas and often makes itself heard. It nests in burrows in earth banks.
The Puerto Rican Sharp-shinned Hawk, (Accipiter striatus venator), an endemic subspecies, is a rare sight, best spotted in the Toro Negro and Maricao forests. A solitary, rather secretive hawk with a small head and large eyes, it usually launches surprise attacks on its prey from the air, but will also pursue prey on the ground.
As we have already noted, habitat destruction for urban developments and agriculture has been a contributing factor to the declining numbers of these species, as well as predation by invasive species. In recent years, the increased frequency and severity of tropical storms (such as Hurricanes Irma and María in 2017) and other impacts of climate change have also created problems for humans and wildlife in general.
Puerto Rico's endemics and other bird species face many challenges. At our joint conference in San Juan, we will discuss actions to be taken to boost the resilience of these and other birds, and to give them "wings of recovery!" We look forward to having you join us, as we strategize for a better tomorrow – not only for the island's wonderful birds, but for those across the Americas!
---
Español
La Sociedad Americana de Ornitología y BirdsCaribbean se encontrarán en Puerto Rico en 2022. ¡Únete a nosotros!
¡Vamos a volar juntos! Por primera vez, la Sociedad Americana de Ornitología (AOS) y BirdsCaribbean serán anfitriones conjuntos de una conferencia en San Juan, Puerto Rico, desde el 27 de junio hasta el 2 de julio de 2022, en cooperación con las organizaciones locales Para la Naturaleza y la Sociedad Ornitológica Puertorriqueña (SOPI).
Bajo el tema "Sobre las Alas de la Recuperación: Resiliencia y Acción", la conferencia marcará la reunión anual número 140 de la AOS y la vigesimotercera Conferencia Internacional de BirdsCaribbean.
La conferencia reunirá a ornitólogos, profesionales de la vida silvestre, educadores, líderes de comunidades, estudiantes y otros para compartir información y aprender de las investigaciones científicas más recientes e innovadoras para la conservación de aves y sus hábitats.
Habrá apasionantes oradores principales y plenarios, simposios, talleres, mesas redondas de discusión, publicaciones científicas y pósteres. Adicionalmente, tendremos una gran variedad de expositores, incluyendo comerciales, sin fines de lucro y sectores gubernamentales. También, diariamente se llevarán a cabo una serie de eventos divertidos para facilitar las conexiones entre participantes y la reconexión con antiguos colegas. Finalmente, se ofrecerán numerosas excursiones de campo para darte la oportunidad de explorar y observar aves en el fabuloso Puerto Rico.
¡Estamos ansiosos de verte en persona!** Un llamado para propuestas de talleres y oportunidades de entrenamiento ha estado vigente hasta el 4 de enero de 2022. Todas las propuestas para simposios y discusiones de mesa redonda se han recibido hasta el 15 de enero de 2022. Las inscripciones y aceptaciones de resúmenes y presentaciones con pósteres están abiertas desde enero de 2022. 
Marca tu calendario y planea unirte a nosotros en la bella isla de Puerto Rico, una de las cuatro islas conocidas como las Antillas Mayores, una de las cinco regiones consideradas globalmente como puntos calientes (hotspots) principales de endemismos de plantas y vertebrados. En Puerto Rico habitan 370 especies de aves, con 17 de las 171 endémicas de la región. Sus intrigantes paisajes, desde los manglares y humedales hasta las playas y bosques lluviosos, están ahí para disfrutarlos.
El logotipo de la conferencia celebra el tema: "Sobre las Alas de la Recuperación: Resiliencia y Acción"
Observemos detenidamente el logotipo de la conferencia. Diseñado por el súper talentoso ornitólogo y artista Josmar Esteban Márquez, el logotipo refleja el tema, mostrando seis de las diecisiete especies o subespecies endémicas de Puerto Rico y una especie endémica regional. Estas incluyen a la Cotorra Puertorriqueña (Iguaca), cuya población se ha recuperado notablemente desde 1975, cuando solo quedaban unos pocos individuos en su hábitat natural. Hoy se estima su población en 500, gracias a la introducción de individuos producto de la reproducción en cautividad en su hábitat natural y se estima que la mitad de estas aves se están reproduciendo naturalmente. ¡Que buen ejemplo de resiliencia!
Aquí presentamos las especies tan hermosamente expresadas en nuestro logo. De izquierda a derecha:
La Reinita de Bosque Enano (Setophaga angelae) es una preciosura de reinita, de plumaje blanco y negro, endémica de unas pocas áreas de bosque en la isla, como por ejemplo El Yunque. ¡Fue descubierta por ornitólogos en 1969! Su canto no es tan musical como esperarías, pero las parejas territoriales cantan en dúos mientras defienden su territorio y, aparentemente, forman parejas de por vida.
El Guabairo (Antrostomus noctitherus) es una especie endémica amenazada. Los machos cantan todo el año y durante la época de apareamiento incuban y cuidan a los polluelos en el suelo durante el día. Son más abundantes en el bosque alto, dentro de la Reserva de la Biosfera Guánica y en los alrededores de la misma, donde se alimentan de insectos bajo la copa de los árboles durante la noche.
La Mariquita (Agelaius xanthomus) es otra especie endémica y amenazada que se encuentra principalmente en los manglares del suroeste de Puerto Rico y en la Isla de Mona. Ha sufrido enormemente de nidoparasitismo por parte del invasor Tordo Lustroso, el cual pone sus huevos en el nido de esta especie. La Mariquita muestra una gran variedad de cantos y posturas y, usualmente, camina sobre el suelo.
La elegante Chiriría (Dendrocygna arborea) es endémica de la región del Caribe y uno de los patos más raros en las Américas, a pesar de haber sido rebajada su categoría a "Vulnerable" por BirdLife International en 2019. Se puede encontrar en aguas dulces y humedales salinos, incluyendo los manglares costeros, lagunas y humedales producto de las mareas, en busca de semillas, frutos silvestres y granos, principalmente durante la noche. 
Bajo Amenaza Crítica, la Cotorra Puertorriqueña (Amazona vittata) es una hermosa especie endémica amenazada por la depredación, el comercio ilegal y desastres naturales como los huracanes. Sin embargo, actualmente se está beneficiando de un programa de recuperación. Es casi completamente verde, con bordes azules en las alas y una vívida franja frontal roja.
Esta especie endémica, el San Pedrito (Todus mexicanus), conocido también localmente como Medio Peso y Papagayo, es una brillante gema de ave que vive en bosques desde la costa hasta la montaña y frecuentemente se hace escuchar. Anida en huecos.
El Falcón de Sierra (Accipiter striatus venator), una subespecie endémica rara de observar, la encontrarás con mayor posibilidad en los bosques de Toro Negro y Maricao. Es una rapaz solitaria y bastante huidiza, de cabeza pequeña y ojos grandes, que normalmente sorprende a sus presas desde el aire, pero que también las puede perseguir sobre el suelo.
Como habrás notado, la destrucción del hábitat para desarrollos urbanísticos y la agricultura ha sido un factor importante en el declive de las poblaciones de estas especies junto con la depredación por especies invasoras. En años recientes, la creciente frecuencia y magnitud de tormentas tropicales (como los huracanes Irma y María en 2017) y otros impactos del cambio climático han creado también problemas para los humanos y la vida silvestre en general.
Las especies endémicas de Puerto Rico y otras especies enfrentan muchos retos. ¡En nuestra conferencia conjunta en San Juan, discutiremos acciones para incrementar la resiliencia de éstas y otras especies de aves y como darles "alas de recuperación"! Esperamos que te unas a nosotros y nos ayudes a crear una estrategia para crear un mañana mejor, no solamente para las maravillosas aves de la isla, sino también para las aves de todo el continente americano.
---
*We are closely monitoring current pandemic conditions and will follow guidance and ordinances provided by local health authorities regarding travel, masking, and social-distancing requirements during the conference. All attendees of AOS & BC 2022 will be required to be fully vaccinated, as defined by U.S. Centers for Disease and Control Prevention (CDC) guidelines.
** Estamos monitoreando de cerca las condiciones actuales de la pandemia y seguiremos al pie de la letra normas y recomendaciones de las autoridades sanitarias locales en cuanto se refiere a viajes, uso de mascarillas y distancia social durante la conferencia. Todos los asistentes a la conferencia AOS & BC 2022 tendrán que estar vacunados de acuerdo a la definición del CDC (siglas en inglés del Centro para Enfermedades, Control y Prevención de Estados Unidos). U.S. Centers for Disease and Control Prevention (CDC) guidelines.