Marketing & Communications
Christine Schmidt
Communications & Marketing Manager, American Ornithological Society
Pronouns: she/her/hers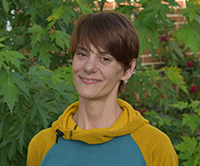 Christine joined AOS in June of 2020. For more than 25 years, she's worked as a communicator and marketer, developing communications plans for various organizations, including governmental agencies, nonprofits, and both private and publicly traded corporations. She has co-developed and deployed NASA-mission-based STEAM curriculum in K–12 and institutional environments across the U.S., while mentoring a new generation of female science educators. When she's not avidly enjoying the Colorado outdoors, sustainably gardening, or practicing yoga in her free time, she's likely working on illustrations for her children's books about birds.
---
Taylor Brown
Ph.D. Candidate, Trent University
Taylor currently studies the ecophysiology of seabirds, with a specific focus on movement ecology and stress physiology of fledglings in the context of their interactions with human-altered landscapes. She loves all things birdy, including birding, banding, falconry, poultry-keeping, and managing the SCO-SOC Facebook and Twitter pages.