This year, plan to join us for the Shorebird Shuffle, a 5K fun run in the beautiful area surrounding our meeting location.
Maggie MacPherson, Coordinator
they/them
Research Associate, l'Universite Laval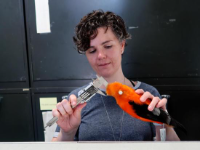 Maggie is from the far north in Canada and studies what drives avian range dynamics at short (seasonal), medium (last century), and long (evolutionary) time scales. Their research focuses on studying the evolution of migration, & impacts of climate change on distributions. They currently study how climate change may impact boreal forest bird populations by integrating avian point count data from boreal and hemi-boreal forests in North America.