Diversity, Equity & Inclusion
The DEI Committee of the AOS & SCO-SOC 2021 Virtual Meeting is dedicated to engaging in initiatives and activities that promote a diverse, equitable, and inclusive experience for all members of the ornithological community attending this meeting. We strive towards lifting all barriers to participation, inclusion, and representation in the meeting and encourage participation by all members of the ornithological community, regardless of age, gender, gender identity, religion, career stage, sexual orientation, ethnicity, race, nationality, marital status, physical appearance, neurodiversity, physical and mental abilities, or any other protected or underrepresented status. All people should be able to freely enjoy nature in public spaces and participate in wildlife research. We recognize and wish to address underlying biases in our actions and institutions that continue to perpetuate inequality in our field. We have a responsibility to stand with and support our colleagues, students, and all people to ensure equality for everyone. Through our efforts at this meeting, we hope to raise awareness about the importance of diversity, equity, and inclusion in our personal and professional spheres and hope our actions will lead to a more welcoming scientific environment for all members.
Sahas Barve
Postdoctoral Fellow, Smithsonian National Museum of Natural History
Pronouns: he/him/él
Sahas is an Indian ornithologist broadly interested in avian life history evolution. He is a Peter Buck Fellow at the Smithsonian where his research focuses on the integrative biology of montane birds. Currently he is studying the thermo-insulative capacity of Himalayan bird feathers. He is also deeply interested in the evolution of avian social behaviors and collaborates on the long-term study at acorn woodpeckers in California.
---
Oliver Love
Associate Professor, University of Windsor
Oliver holds a Tier II Canada Research Chair in Integrative Ecology in the Department of Integrative Biology at the University of Windsor. His lab examines the physiological mechanisms linking environmental variation, life-history decisions and fitness in terrestrial and aquatic birds and fish within temperate and Arctic ecosystems.
---
César Estevo
Ph.D. Student, University of Alberta, Canada
Pronouns: he/him/ele
César is a Ph.D. student in ecology at the University of Alberta studying climate change resilience of bird communities and the boreal ecosystem. César is co-chair of the Equity, Diversity, and Inclusion committee of the Society of Canadian Ornithologists – Société des ornithologistes du Canada. César's passion for birds started during his biology undergrad in Brazil, which led him to look for birds in the Atlantic Forest and to travel to the Amazon forest to guide wildlife enthusiasts.
---
Marcella Baiz
NSF Postdoctoral Fellow, Pennsylvania State University
Pronouns: she/her/ella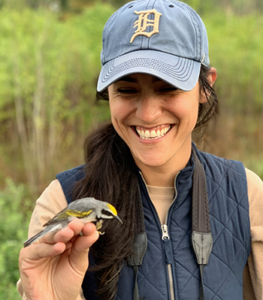 Marcella is an NSF postdoc in the Biology department at Pennsylvania State University studying hybridization and speciation in wood warblers. Currently, her work focuses on understanding the relationship between the gut microbiome and host diversification. She also serves on the Diversity & Inclusion Committee of the American Ornithological Society.