Diversity, Equity, Accessibility & Inclusion
The Diversity, Equity, Accessibility, and Inclusion (DEAI) Committee of AOS & BC 2022 is dedicated to engaging in initiatives and activities that promote a diverse, equitable, accessible, and inclusive experience for all members of the ornithological community attending this meeting. We strive towards lifting all barriers to participation, inclusion, and representation in the meeting and encourage participation by all members of the ornithological community, regardless of age, gender, gender identity, religion, career stage, sexual orientation, ethnicity, race, nationality, marital status, physical appearance, neurodiversity, physical and mental abilities, or any other protected or underrepresented status. All people should be able to freely enjoy nature in public spaces and participate in wildlife research. We recognize and wish to address underlying biases in our actions and institutions that continue to perpetuate inequality in our field. We have a responsibility to stand with and support our colleagues, students, and all people to ensure equality for everyone. Through our efforts at this meeting, we hope to raise awareness about the importance of diversity, equity, accessibility, and inclusion in our personal and professional spheres and hope our actions will lead to a more welcoming scientific environment for all members.
| Español |
Comité de Diversidad, Equidad, Accesibilidad e Inclusión
El Comité de Diversidad, Equidad, Accesibilidad e Inclusión (DEAI) de AOS & BC 2022 está dedicado a participar en iniciativas y actividades que promuevan una experiencia diversa, equitativa, accesible e inclusiva para todos los miembros de la comunidad ornitológica que asistan a esta reunión. Nos esforzamos por eliminar todas las barreras a la participación, inclusión y representación en la reunión y fomentamos la participación de todos los miembros de la comunidad ornitológica, independientemente de su edad, género, identidad de género, religión, etapa profesional, orientación sexual, etnia, raza, nacionalidad, estado civil, apariencia física, neurodiversidad, capacidades físicas y mentales, o cualquier otro estado protegido o subrepresentado. Todas las personas deberían poder disfrutar libremente de la naturaleza en los espacios públicos y participar en la investigación de la vida silvestre. Reconocemos y deseamos abordar los sesgos subyacentes en nuestras acciones e instituciones que continúan perpetuando la desigualdad en nuestro campo. Tenemos la responsabilidad de respaldar y apoyar a nuestros colegas, estudiantes y todas las personas para garantizar la igualdad para todos. A través de nuestros esfuerzos en esta reunión, esperamos crear conciencia sobre la importancia de la diversidad, la equidad, la accesibilidad y la inclusión en nuestras esferas personal y profesional y esperamos que nuestras acciones conduzcan a un entorno científico más acogedor para todos los miembros.
Sahas Barve | Chair
Postdoctoral Fellow, Smithsonian National Museum of Natural History
Pronouns: he/him/his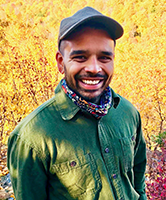 Sahas is broadly interested in avian life history evolution. He is a Peter Buck Fellow at the Smithsonian where his research focuses on the integrative biology of montane birds. Currently he is studying the thermo-insulative properties of Himalayan bird feathers. He is also deeply interested in the evolution of avian social behaviors and collaborates on the long-term study of acorn woodpeckers in California.
---
DEAI Committee Volunteers
Jessica Cañizares
Nandadevi Cortes-Rodriguez
Sandra Cuadros
Sheylda Diaz-Mendez
Sutirtha Lahiri
Eduardo Llegus
Erin Morrison
Lan-Nhi Phung
Chad Wilhite