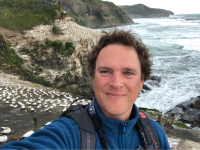 Tuesday, 8 August, 4:30-5:30 p.m. (ET)
Join Jody Allair, Birds Canada's Director of Community Engagement, for a captivating presentation on the various threats facing birds in Canada, and a detailed discussion on the ways you can make a difference. Whether you are a seasoned birder, or just bird interested, this session will aim to inspire the appreciation, understanding and conservation of our amazing feathered friends.
Jody is an avid birder and naturalist who enjoys sharing his enthusiasm for the natural world. He is the Director of Community Engagement at Birds Canada where he is the co-editor of BirdWatch Canada Magazine, producer of the Warblers Podcast and a coordinator of eBird Canada. Jody delivers various education and outreach programs to audiences across Canada and has written numerous articles on birds, birding and connecting with nature. He has appeared on CBC's Rick Mercer Report, presented at Ideacity, was a featured bird expert on Season 2 of the Love Nature Television series Battle of the Alphas and is a regular guest on the American Birding Association podcast. In addition to his work at Birds Canada, he also leads national and international birding tours with Eagle-Eye Tours.
This event is free and open to conference attendees and the public. For those who are not registered for the AOS & SCO-SOC 2023 conference, please use this link to register for this event.
---
Event Sponsor